Imagine celebrating your wedding or special event in one of the most ancient, rugged and beautiful places in the world.
With 400 million years of history - Kings Canyon is a truly unique location for your wedding or special event. The unspoiled wilderness offers an outback oasis with the soaring shapes of the Canyon as your backdrop. There are many locations across the resort property to create beautiful events, with the Luritja Lookout (Sunset Viewing Deck) being a popular location. As the sun sets and the formalities conclude, an exclusive dining experience 'Under a Desert Moon' will see you and your guests enjoy delicious cuisine with matching wines.
Gallery
Picture yourself in this beautiful setting
Location
Luritja Road, Petermann NT 0872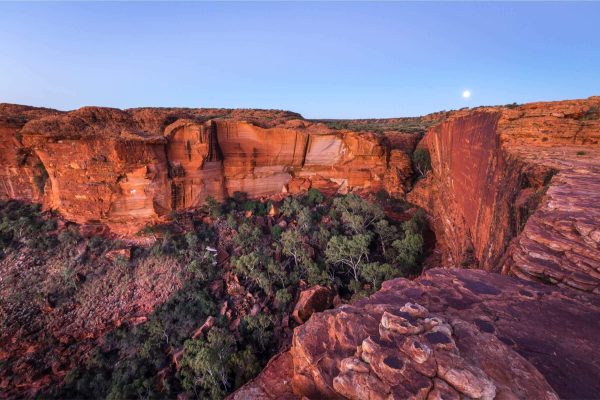 Location attractions
Kings Canyon is a natural wonder located approximately halfway between Alice Springs and Uluru - literally at the heart of Australia's Red Centre.
Forged over 440 million years from layers of sandstone, shale and rock, the canyon soars 270 metres above sea level, then plummets to the Garden of Eden below where ancient flora and fauna thrive along a permanent line of rock pools.
A literal oasis in the desert, Discovery Resorts - Kings Canyon is the closest accommodation to Watarrka National Park, where the mighty Kings Canyon is located. Offering a resort-style holiday for intrepid travellers, modern rooms with ensuite bathrooms, air conditioning and private balconies enable guests to enjoy the view in a luxurious setting.
For a camping and caravanning experience you won't forget, Discovery Parks – Kings Canyon boasts one of the most picturesque campgrounds in Australia. Here you can really get amongst the ancient landscapes in your own caravan or tent and utilise what we believe are the best camping facilities in the Red Centre.
Enjoy uninterrupted views to Kings Canyon and relax in the knowledge that you are never far from a hearty meal from one of our dining outlets, plus all the facilities which make this an oasis of convenience in the middle of an ancient, rugged landscape.
Unique experiences for adults and children are available, with guided hikes and self-guided tours to learn about the local landscape and immerse yourself in the Indigenous culture that has been present here for tens of thousands of years.
Enquire Now
Accommodation
@ Discovery Resorts - Kings Canyon
No matter how you stay with us at Discovery Resorts - Kings Canyon, the wonder of the Red Centre is always at your doorstep. You only need to decide whether it's a Deluxe Spa Room, newly refurbished Standard Room or a Superior Glamping tent! There is something to suit every traveller's choice and budget!
Kings Canyon's proximity to a cultural heritage that is tens of thousands of years old makes being here an opportunity to finally immerse yourself in Australia's incredible Indigenous ancestry.
Take in a view of Watarrka by air, learn how the traditional owners survived for so long in these conditions, enjoy a sunset drink, and make the iconic 6km hike to the top of Kings Canyon itself - 360 views of Watarrka National Park await!
More Info
Enquire
We're here to help, let us work with you to plan your perfect event
Expression of Interest
Have some questions before you start planning your event? We're here to help, drop in your details and let's have a chat.
Event Enquiry
Let us know you're keen to host your next special event at Discovery Resorts - Kings Canyon.